As most of you surely know, today is the day that LG finally unveils its latest flagship phone. The event is set for 3:00 PM GMT in London and excitement is at an all-time high. We already know quite a lot about LG's upcoming top-of-the-line handset we got official renders, banners, a few live photos, as well as a lot of info on specs. There has even been some talk about pricing and production costs, so, we can definitely say that LG hasn't been too concerned with shrouding the G4 in mystery.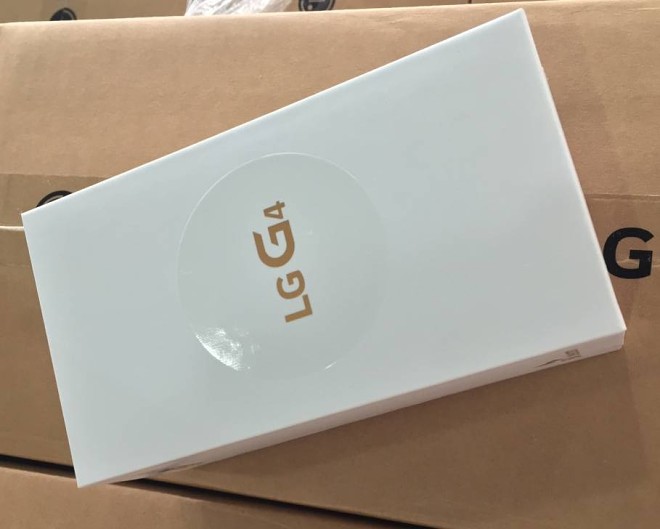 Just mere hours before the device becomes official, a couple of new images allegedly reveal one of the very last things about the LG G4 that we haven't previously seen – its retail box. The packaging appears to be standard enough with a white rectangular shape and what looks to be a two-piece design. It does have some sort of accent around the logo on the front, but, we can't really tell if it's a sticker or the box is curved. What is even more-important, tough, is that the bottom of the package has some specs listed, which provide perfect proof for a lot of what we already know.
To make a quick recap. The LG G4 should feature a 5.5-inch True HD IPS display of QHD resolution and made from Corning Gorilla Glass 4, most of this is evident from the aforementioned photo, as well. Most rumors also agree on a Snapdragon 808 as the chipset, instead of the top-of-the-line Snapdragon 810. This might actually be a marvelous move on LG's part, as the Snapdragon 810 is still shrouded in overheating and throttling controversy. We are yet to see the 808 model in an actual handset, but perhaps it is a lot more stable than its bigger brother and the markdown in performance shouldn't be all that noticeable.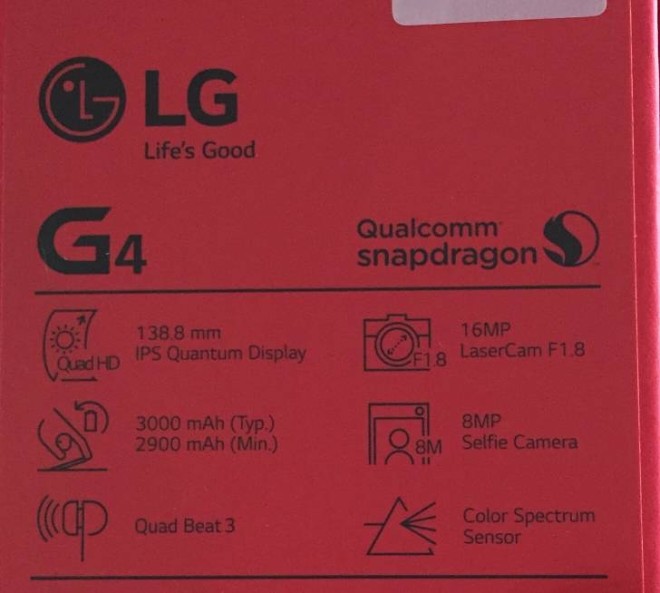 Sadly, the box doesn't list any information on memory. The G4 will most-likely come with 3GB of RAM and 32GB of on-board storage. Another thing that is confirmed by the box, however, is the 3,000 mAh battery, which should provide plenty of juice and is removable. Also, the camera setup. It consists of a 16MP main camera with an aperture of f/1.8 and an 8MP front-facing one. It is also worth noting that the main sensor isn't protruding on the back, which is not the case with most of its direct flagship rivals, like the Samsung Galaxy S6 and HTC One M9.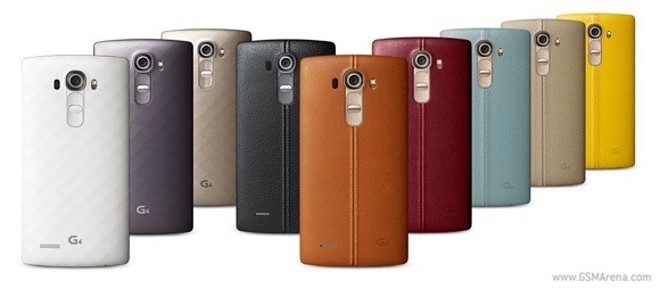 But, undoubtedly, the LG G4′s most distinctive feature is its look. Based on what we currently know, it should spout a nicely curved body LG dubs "Slim Arch Design", even if 8.9 mm isn't all that thin. The back will feature genuine stitched leather, which should set the G4 apart from the crowd and while it might not be to everybody's liking, it does look quite stylish. LG has promised to offer more traditional back cover options as well.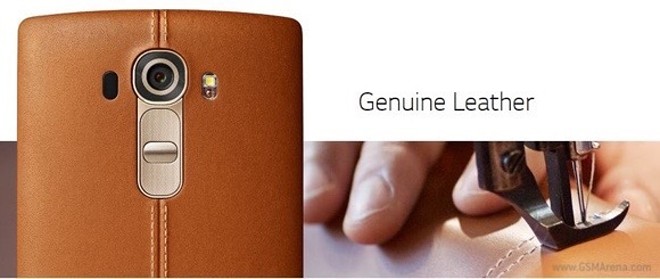 All in all, the G4 sound and looks very exciting and we can't wait to see it become official later today. There has also been word of another phone, dubbed the LG G4 Note, which might be unveiled today as well. So, we will surely follow the presentation closely and keep you updated.