LG has the irksome habit of announcing stuff with just a photo and virtually no specs, the same thing happened with the three new LG G Pad tablets. We have to resort to sources like AnTuTu for specifications of the LG G Pad 7.0 as if it's a rumored, unofficial device.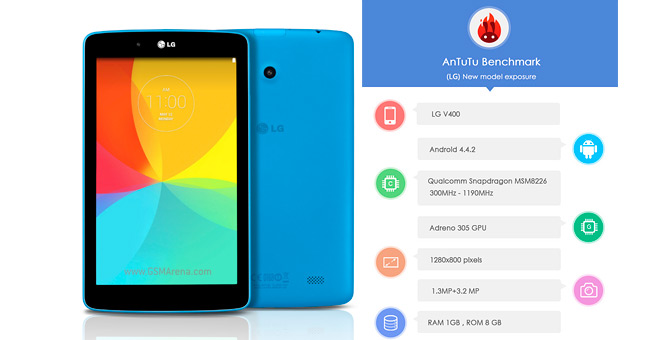 So, here it goes. The 7″ screen has 1280 x 800 pixel resolution, making for 216ppi.
Unlike the G Pad 8.3, this one doesn't seem to be a particularly high-end model. If the screen wasn't indication enough, then the Snapdragon MSM8226 chipset should make you certain.
This chipset houses a quad-core Cortex-A7 CPU running at 1.2GHz and an Adreno 305 GPU. The LG G Pad 7.0 has 1GB RAM and 8GB storage, presumably expandable.
There's also a 3.2MP main camera and a 1.3MP front-facing camera, though there's no info on the video capture resolution.
Does this mean that the 8″ and 10.1″ G Pads will be mid-rangers too? We'll have to wait for the AnTuTu team to dig up their benchmark results to find out, or maybe LG will unveil the specifications (we can dream, right?).