We just got the report on the tablet market in 2011 from Strategy Analytics and it tells some interesting stories. The iPad managed to just over double its sales compared to 2010 and is still the dominant force, holding a market share of 57.6%.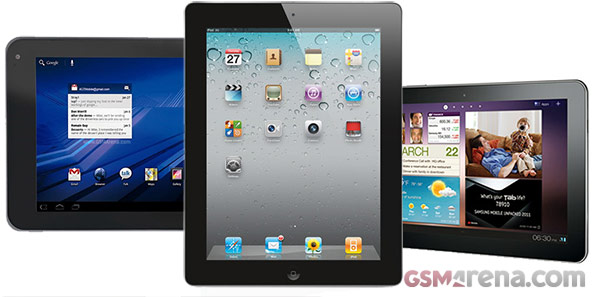 However, the iPad is no longer able to keep up with the overall market growth, which is fueled by the strengthening Android sales. The green robot tablets shipments grew over three times year-over-year and that helped them reduce the gap to their iOS counterparts.
The Windows tablets also managed to snatch 1.5% of the market, while other platforms (that would mostly the HP TouchPads and BlackBerry PlayBooks, we guess) got 1.9%.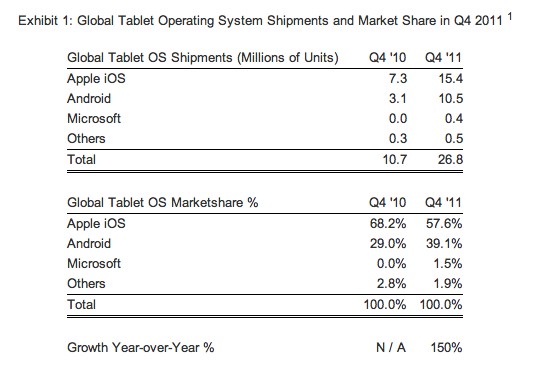 If iOS and Android do keep their growth rate through 2012, the two will be tied at the top come the end of the year. Windows will probably be unable to make a strong impact just yet, but there's huge potential there too with the Windows 8 platform, so we should probably be keeping an eye on it, as well.
Update, January 27: Strategy Analytics released a few more interesting tidbits on the tablet market. It turns out that 40% of the Android tablets are in fact either Kindle Fires or Nook Tablets, neither of which uses Google services or has (official) access to the Android Market. That's great news for Amazon and Barnes & Noble, but not so much for Google. Still, it shows how much demand there is for a $200 tablet.
Are you planning on getting a shiny new slate in 2012? If yes, what would be your platform of choice? Share with us in the comments section below.