When one company releases an extravagant product such as the Optimus 3D you can never be sure if that's the start of a new trend or they are aiming for publicity rather than sales. However when two of the major smartphone makers in the world hop into the same boat almost simultaneously you instantly know that it's just the beginning.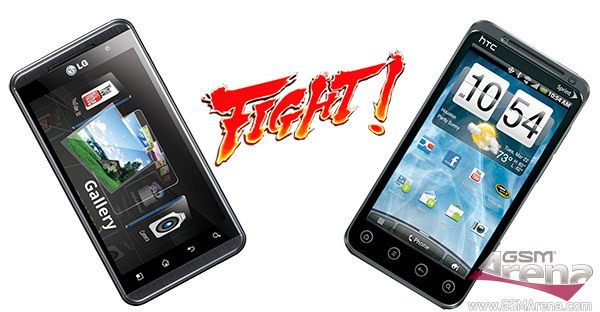 The French HTC office confirmed that the EVO 3D will be available in Europe, which officially started the 3D wars. We've got two of the hottest smartphones we have seen sporting dual cameras at the back and stereoscopic screen and it's pretty easy to tell that you cannot go wrong with either one. Yet the question remains – which one is better?
We were just contacted by LG, who told us their take on how those two compare, revealing some pretty juicy tech bits in the process. We now know the exact brightness of the screens of the Optimus 3D and EVO 3D, as well as the fact that LG use a Real-Time Misalignment Correction Algorithm to fix any lens misalignment issues caused by drops, heat or humidity.
You can find a quote of the best part of LG statement at the end of this post. But before we get to that, here comes a comparison table that includes the two devices based on the information that is available so far.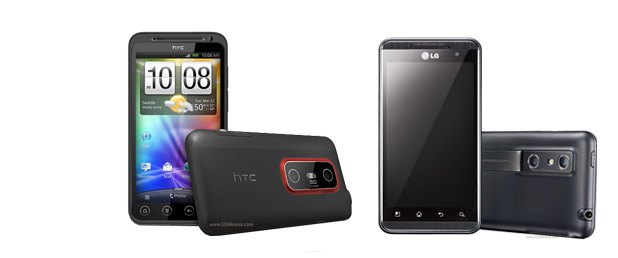 HTC Evo 3D

LG Optimus 3D

OS

Android 2.3 Gingerbread

Android 2.2 Froyo, upgradeable to 2.3

Display

4.3″ qHD (540 x 960 pixels) S-LCD

4.3″ WVGA (480 x 800 pixels) LCD

3D mode in portrait

Yes

No

Display brightness

550 nit (2D)/230 nit (3D)

500 nit (2D)/175 nit (3D)

3D TV-out

No

Yes

3D images

2.0MP

5.0MP

3D videos

720p@30fps

720p@30fps

Camera lenses
alignment correction

No

Yes

CPU

1.2Ghz dual-core
Scorpion processor

1Ghz dual-core
Cortex-A9 processor

GPU

Adreno 220

PowerVR SGX540

RAM

1GB

512MB

Storage

1GB

8GB

microSD card slot

Yes, up to 32GB

Yes, up to 32GB

Battery

1730 mAh

1500 mAh

Dimensions

126 x 65 x 12.1 mm

128.8 x 68 x 11.9 mm

Weight

170 g

168 g

Sensors

Gyroscope, Accelerometer, Digital Compass, Ambient Light Sensor

Gyroscope, Accelerometer, Digital Compass, Ambient Light Sensor
So that's what the picture looks like right now. Of course there are elements important for the stereoscopic experience that we didn't include in the table due to the lack of sufficient information. For example LG says that their main focus when designing the Optimus 3D was achieving low 3D cross-talk, but right now we cannot confirm if they outdid HTC in that aspect.
Also we need to see the 3D output from both cameras, as our experience has told us numbers can often be misleading. Battery life is another question that needs its answer by the 3D advocates.
Of course, you can bet we will be doing our best to secure samples from both smartphones for full reviews and see, which one is worth your money.
Here's are the best parts of the LG statement on the matter:
Some facts about HTC EVO 3D and LG Optimus 3D

HTC EVO 3D has a HD (960X540) display while the LG Optimus 3D is equipped with a WVGA (480X800) panel.
The graphic core is the most important factor for realizing the 3D effect in high resolution. Several tests showed that the LG Optimus boasts a high fps which brings clearer and more vivid graphics. In addition, most applications are not optimized for qHD at this time.

HTC EVO 3D has higher brightness at 550nit in 2D and 230nit in 3D while the LG Optimus 3D's brightness is 500nit in 2D and 175nit in 3D.
Brightness could be easily increased if we sacrificed the low cross-talk rate. However, cross-talk, not brightness, is most commonly associated with comfort when viewing 3D content. For this reason, LG is focused more on achieving a lower cross-talk rate than high brightness.

3D mode is available for both landscape and portrait mode on the HTC EVO 3D while LG Optimus 3D supports 3D mode only in landscape mode.
Using portrait mode is inconvenient because of its high cross-talk ratio and rainbow effect.

The HTC EVO 3D has no feature to protect 3D technology from offsets.
The LG Optimus 3D has Real Time Misalignment Correction to protect 3D technology from dropping/ heating/ humidity which can result in offset throughout the device's lifetime"

HTC EVO 3D's 2D/3D switch along the side is only for the camera, not the display.
Thanks to its 3D hot key, the LG Optimus 3D can easily toggle between 2D to 3D or vice versa for both viewing on the display and recording in camera and video. The LG Optimus 3D's exclusive software technology can convert 2D images into 3D.

HTC EVO 3D cannot share 3D content with a 3D TV.
The LG Optimus 3D is the only 3D smartphone for sharing and viewing of 3D content on a large screen like a 3D TV or monitor through HDMI 1.4 connection. In a demonstration of its recognition of LG Optimus 3D's superior 3D experience, YouTube is collaborating with LG for exclusive marketing activities on its YouTube 3D channel.