The talk of the day is still Apple's keynote and the unveiling of iOS 5. It brought along many changes, most of which good ones but this geek can't help but wonder – weren't those things already available?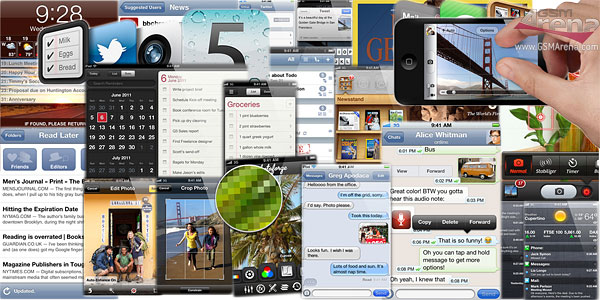 Much like some old iPhone ads by Apple itself, when somebody asked me how can I enable SMS delivery reports (you know as a joke that the iPhone can't) I'd say – "There's an app for that". I used to say this about many things – like the missing DivX and XviD support too. And there is an app for most things we'd want to do with our iPhones. If there isn't one in the official iTunes store, there's probably one over at jailbroken heaven-vile Cydia.
But now with some of the new features of iOS 5, Apple seems to step on some of iOS developer's toes and even stole designs and concepts. Not in every case, but we have some examples for you guys.
Notification center
The Notification center is probably the most obviously copied new feature. Android has bragging rights for the slide-down notification area, which Apple has blatantly borrowed with a few tweaks. Not to mention that the design is also "inspired" by another app. The new lockscreen notifications also have already been available via third-party apps (ones requiring jailbreak though).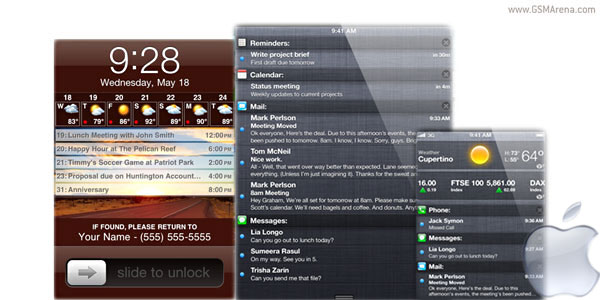 Lockscreen info is pushed aside by Apple's Notification center
Reminders
To-do apps have been around for awhile for iOS (even before it was called iOS) and were even promoted by Apple in the good old iPhone 3G/3GS days. Suddenly now with iOS 5 we'll have this feature built in. Now a whole set of those will be rendered useless. The one below is one of the most popular ones, dubbed To Do. Still the integrated Reminders app will have true access to the iOS's alarms system and you can also snooze the alarm, something that was not quite possible wih third-=party app that were using the push notifications infrastructure.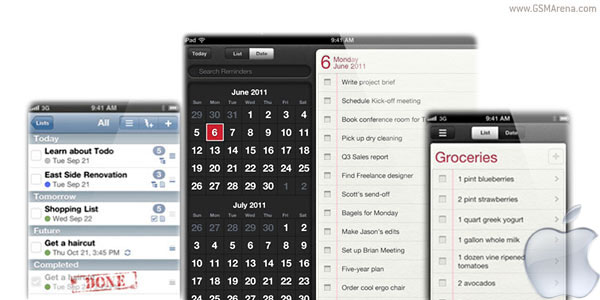 Reminders will make To do apps obsolete
Camera
Ever since the iPhone 4 brought along a nicely capable camera on its back, third-party camera apps have been flourishing. This could also have something to do with the fact that the iPhone's camera is very limited in terms of settings. Well, iOS 5 is here to fix that as well, bringing along features like focus and exposure lock. If you browse the Apple App store you'll find tons of camera apps for all sorts of things and most of them won't suffer from the updated propriety camera app but some of them (some of the good ones, like Camera+) will. Camera+ (below) offers focus and exposure control, as well as an in-built photo editor.
Interestingly Camera+ was pulled from the App Store because of a function it offered – capture via the volume key. Yes, the same exact feature Apple pulled Camera+ from the App Store for. And yeas – it is awfully unfair and deceiving.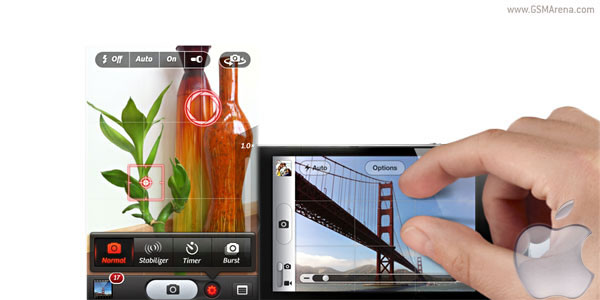 The new camera app versus Camera+
Photo editing
Speaking of editing photos, let's get deeper into it. Many iOS apps are made with creative folk in mind and there are a lot of apps out there for photo editing, giving cool color effects and more. Now iPhone has this built right in and this will make it harder for those third-party apps to sell, given the free option is right there in the phone. The one showcased below is PhotoForge2 and does a great job, giving users tremendous control for a portable app. It has layer support (yep, like in Photoshop), full resolution editing for a true professional touch and much more.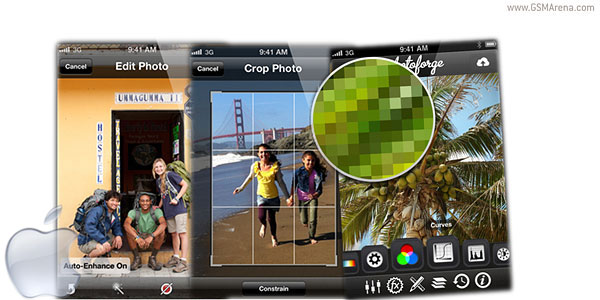 Now there's no need for photo editing apps when you've got it in the OS
Newsstand
The Newsstand app unifies all of your magazine subscriptions in a folder-like iBooks application right there on your homescreen. I hope all those magazine apps with their in-app purchases don't disappear altogether. It kind of makes me think Android here, Readers Hub ringing bells? It's a Samsung thing for its droids, which basically acts just like the Newsstand, unifying all of your subscriptions and giving you many papers and magazines to choose from.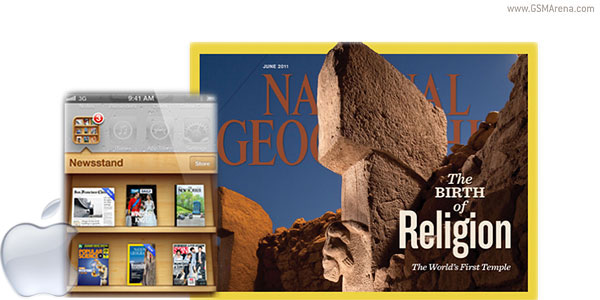 Newwsstand revolutionizes the way we view magazine subscriptions
iMessaging
Apple "reinvented" messaging with their own iOS platform-wide messaging service that will be accessible for free to all iOS users – be it iPhone, iPod or iPad. Many sources now cite it as the BlackBerry Messaging killer. The reason behind it is not that it does something better than the BlackBerry service, but it was one of the last differentiating features of the BlackBerry platform, now on decline.
On the iOS front we have What'sApp, which is a great and popular messaging service ($0.99) that brings your messaging to life with delivery reports and sort of a social network slash chat service layout. It's great and uses Wi-Fi or your mobile data connection, so it spares you the SMS charges. There's also Viber, which is FREE and recently introduced texting besides voice calling over Wi-Fi or 3G.
Both What'sApp and Viber are also available for Android (Viber still in closed beta) so they are still not rendered out of business by Apple's own iMessaging as they will offer cross-platform messaging.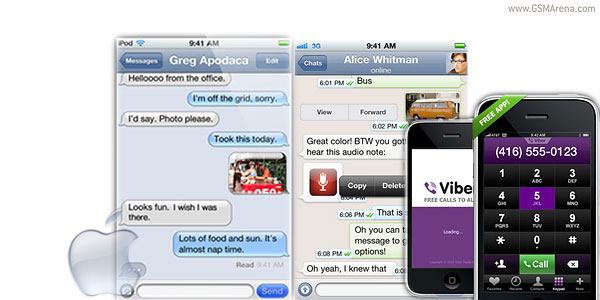 iMessage has serious foes in the face of What'sApp and Viber
Windows Phone 7 leaves its prints
Apple has borrowed a thing or two from the book of WP7 too with iOS 5. For example the automatic wireless sync when you connect your phone to a charger – that's something WP7 uses from the very beginning.



iOS 5 took something from Windows Phone 7 too
Also in the camera app you still have the little "last taken" photo in the lower left corner but you can also open the gallery with a swipe of the finger – just like on WP7 phones.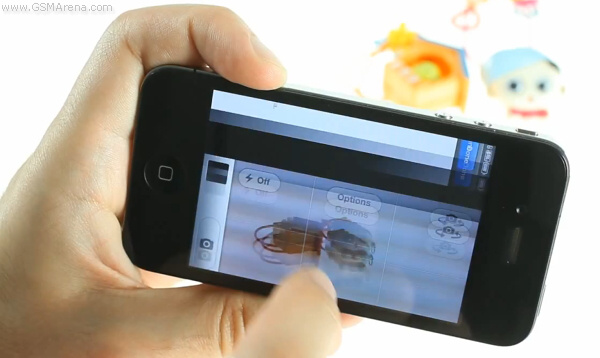 A swype in the camera app brings the user to the photo gallery
Wi-Fi Sync
One particular feature of the iOS 5 involves some really ugly foul play by Apple. The Wi-Fi Sync, which enables you to synchronize your iDevice with your PC or Mac via a shared Wi-Fi network. The concept is great and evolutional (for iOS, that is) and is actually a great steal for Apple. And steal is the right word here as almost a year ago the same app was introduced by a developer from the UK – Greg Hughes. He had come up with the concept and even dubbed it Wi-Fi Sync.
Long story short Apple turned down his idea based on some security issues but was very impressed and even wanted the young man's CV. He was forced to search for profit elsewhere and ended up posting his Wi-Fi Sync app on Cydia for $9.99. The app is selling like crazy, earning Mr. Hughes big cash (though not as big as the official App Store would have).
Now come Monday Apple mysteriously came up with the same idea and made it official as a part of the new iOS 5. The app icon is uncanny compared to the Cydia-bound version of its true creator and even the name is exactly the same. Horrible move by Apple on this one and I'm sure many people (like myself) will be appalled by this act of thievery.



Cydia Wi-Fi Sync by Greg Hughes on the left and Wi-Fi Sync on iOS 5 on the right
Conclusion
Those are just some examples of apps being pushed aside or contested by iOS 5, which was not the way Apple made things in the past. When they introduced third-party apps, Apple were quite heavy on the bragging, not missing an opportunity of promoting it. Now it seems like as the OS capabilities are expanding, they are consuming some of the best ideas that have cropped up in the third-party app world.
I have to give Apple credit for some of the ideas because the company has a way of doing things better than others and I'm sure that all of this will work perfectly on iOS 5 and there will be little complaints. And to all the people judging Apple for copying some Android ideas – don't forget that you wouldn't have pinch-zooming if it weren't showcased on the original iPhone several years ago. Also don't forget Apple single-handedly created the whole tablet market niche with their iPad. Android borrowed quite a few things off the pioneering iOS. So, I give it to them, it's not all black and white and it's business, not personal.
Anyway this new Apple approach doesn't seem to hurt the end user but certainly sends a bad signal to developers. It sounds like "If you do it right – we could take the credit away from you".
On the upside this could altogether mean a game-changing turn of app development strategies. It could also mean that developers are prompted to focus on other, even more innovative stuff to work their magic on for our iDevices. Hopefully that's the case and the future will be awesome.