Sadly, there's not much truth to this story, but it's always cool to look at concepts of what might be. It's especially cool when dealing with flagships – the phones that will shape the mobile landscape in the future year.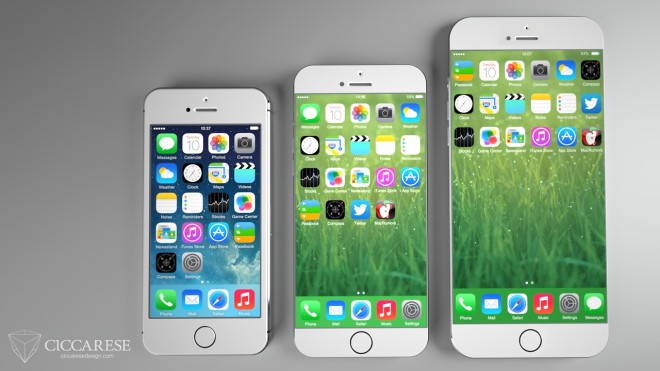 This time we've got two concepts of an Apple iPhone 6, built around rumors of bigger-screened iDevices we heard recently. Both rumors suggest a 4.7″ and 5.7″ iPhone, but in these concepts we get a 4.7″ and 5.5″, both of 326 ppi sharpness thanks to their respective 750 x 1338 and 878 x 1568 resolutions.
The designs aren't like the iPhones we've become accustomed to – while retaining the flat front both concepts feature curved sloping backs and bezel-less, edge-to-edge screens.
The edges are chamfered and with the addition of the top and bottom bezels (featuring the earpiece, iSight front-facing camera and the Touch ID button) the concept reminds us a little of the HTC One.
Still, both concept devices have smaller top and bottom space around the screen and have almost the exact same sized icons leading to one more icon per row on the 4.7″ concept and two more on the 5.5″ concept.
Although pretty cool, as we said, we can't really see Apple, the company proud of its one-finger operation and compact phones, releasing a phablet device.
This isn't the first time an iPhone concept has appeared on the radar and it won't be the last. Hopefully, Apple is watching and would take note.