It's been nearly a year since the Hero3 was announced and now GoPro has a refinement – the GoPro Hero3+. It's available in both Silver and Black editions (the White wasn't updated) and promises 15-20% smaller camera (when put in the waterproof housing), improved lens and 30% longer battery life plus new features.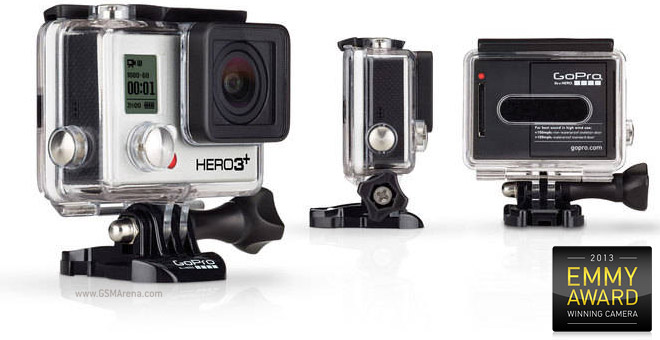 The better spec'd model, dubbed Hero3+ Black is 20% smaller than the non-plus version, but it also has a better lens – 33% sharper and promises to cut the imaging artifacts in half – along with upgrading the microphones.
The camera also has 4x speedier Wi-Fi for near real-time preview. The Hero3+ Black has new features too, including SuperView, which widens the viewing angle, and Auto Low Light, which automatically adjusts the framerate to improve the quality in low-light conditions. The camera tops out at 1080 @ 60fps, 2.7K @ 30fps and 4K @ 15fps video capture.
The GoPro Hero3+ Silver is 15% smaller and lighter and features and upgraded processor – it can now record 1080 @ 60fps and 720p @ 120fps, double the framerate of the non-plus Silver. The lens was improved as well, promising less distortion and 3x reduction in image artifacts. The Silver has new mics and faster Wi-Fi too, just like the Black.
The GoPro Hero3+ Black is on sale in select stores (also available online) at $400 and the Silver is at $300, same prices as last year's models. The Euro GoPro store lists significantly higher prices – €450 and €350.
GoPro also unveiled a few new accessories – Jaws: Flex Clamp, Junior Chesty and Headstrap + QuickClick.
Note that the next generation Hero also seems to be in the works.