Google has announced a big update for its Play Music service. First off, the Android and iOS apps have received a new, Material Design-infused coat of paint. Second, the service now brings you contextual music stations.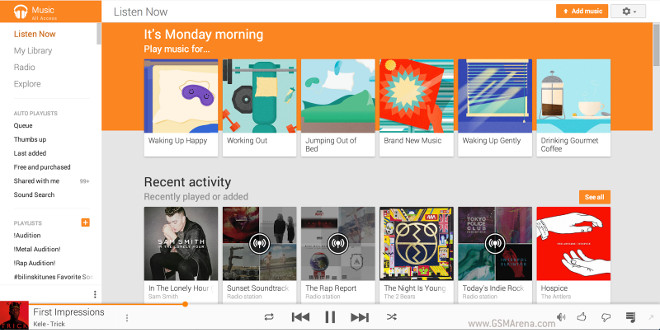 These have apparently been "hand crafted" by a team of music experts, including DJs, musicians, music critics, and ethnomusicologists, to give you exactly the songs you need for a particular moment.
When you open the app, you'll be prompted to play music for a time of day, mood, or activity. You can choose an activity, such as a workout, a commute, or so on, to get shown several music stations you can then instantly start listening to. These music stations can be downloaded to listen to when you're offline too. You can also see what song is next, and even reorder the contextual playlist, add songs to it, or remove songs from it. And you get to start a new station for any song in the mix.
Play Music's Listen Now page has been redone too. Your recently played music, new songs you may like, and radio stations based on what you usually listen to are presented in a card-based interface, complete with Material Design.
The contextual music stations are available today for Play Music subscribers in the US and Canada, through the Web, as well as the Android and iOS apps. The new Listen Now page is showing in all of the 45 countries where Play Music is available, and it too is out for the Web, Android, and iOS.