In the battle of the mobile personal assistants, Google Now seems to have the edge compared to Apple's Siri. At least that's what a study conducted by Piper Jaffray analyst Gene Munster has found.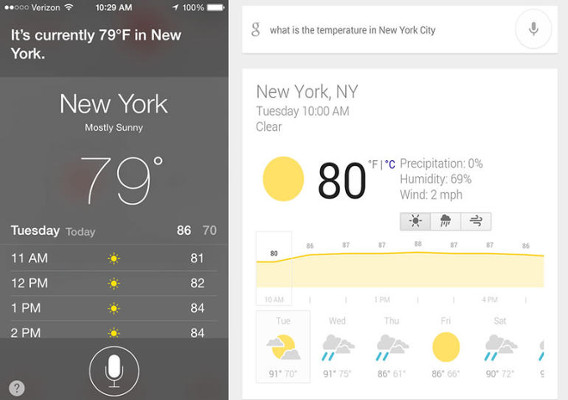 Google's service has become slightly more accurate than Apple's, despite the situation being the opposite last December.
Munster used 800 questions about local information, commerce, navigation, general information, and OS commands. Half of those were asked indoors, and half outdoors. Google Now and Siri were tested in both how well they understood what was asked of them, as well as the accuracy of their answers. Google Now managed to give accurate answers to 86% of the questions it heard correctly, compared to 84% for Siri. Back in December, when a similar test was conducted, Apple's assistant had the lead with 83% to 81%.
This time around, Google Now was best at finding navigation data and local and general information. It fared worse than Siri at OS commands, though it has improved in this area lately. Siri was able to answer 4% of queries on its own, without directing the user to a search engine or website. That's a marked improvement from December's study, when it managed to do that in less than 1% of the cases.
In the end, Google Now went home with a grade of B (up from C+ last year), and Siri had to make do with a B- (also an improvement compared to its C+ from 2013).