Google's Advanced Technology and Projects (ATAP) team is working on a special weaving technology with textile makers to weave touch and gesture sensitive materials along with regular ones to make special yarns. These yarns are woven into fabrics that can be used for making products ranging from a shirt to a car's upholstery. Furthermore, small circuits to work closely with that material are to be smartly crafted inside such final product. Connected fabrics is the objective of ATAP's Project Jacquard.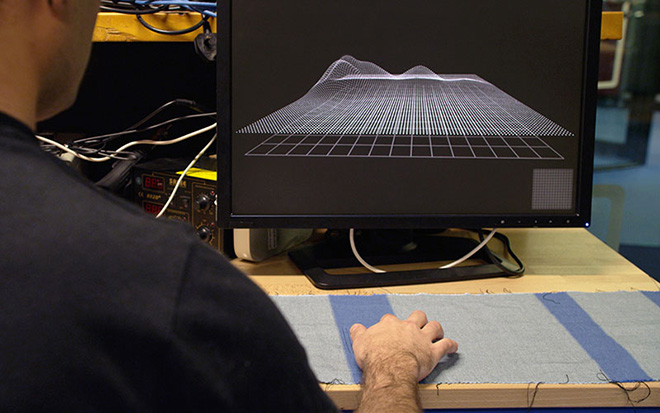 The regular cotton, silk, polyester or any other material will get woven with equally thin conductive metallic alloys for making a strong yarn meant to be used in an industrial loom settings. But the cloth is only one part of the connected clothing.
Along with such materials, the components to support the conductive materials are discreetly attached inside the product in such a way that they're not easily visible. These components basically capture the gesture and touch interactions made with the fabric and transmit it directly to the portable or other devices for further control or output. Hence, Google is also developing the miniaturized version of wireless chips, custom connectors, communication protocols to be used along with an ecosystem of cloud-driven services and apps.
Reputed designers and stylists will have to work with the engineers for incorporating such tiny circuitry to make them appear as an artwork externally or something as simple as a button.
Google has inked Levi's as the first official partner for the Project Jacquard. Hence, we can expect to see the interactive Jeans and other designer clothing in near future. So far, we have connected electronics, homes, cars, and several devices under the Internet of Things umbrella. Soon it will be time for connected clothing to perform variety of interactions with line of gadgets, services and apps.