Futuremark, the software developer behind 3DMark, has removed the performance scores of four Samsung and two HTC devices from its benchmark database. The reason is simple – the devices were suspected in altering their behavior during testing thus breaking the Futuremark rules and are considered cheating.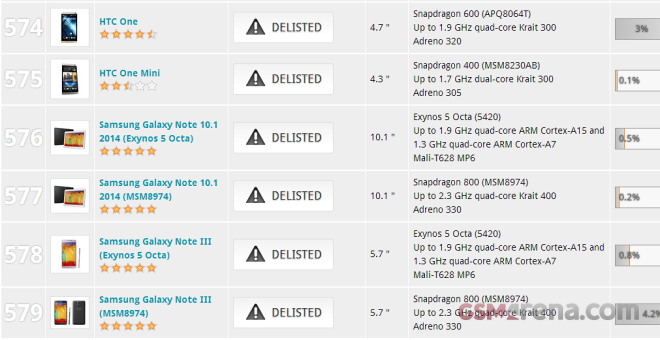 The six devices that were delisted from the Futuremark scoreboard are Samsung Galaxy Note 3 (Octa), Samsung Galaxy Note 3 (S800), HTC One, HTC One mini, Samsung Galaxy Note 10.1 2014 Edition (Octa) and Samsung Galaxy Note 10.1 2014 (S800).
We already know Samsung, among other manufacturers, is "optimizing" the overall performance on various benchmarks by boosting the GPU and CPU clocks up to 100% once you start certain benchmark apps. And while that isn't strictly cheating, it turns out with the Galaxy Note 3 the maximum GPU clock is available only to benchmarks and not to games because there is a risk of overheating. So, yes, Futuremark is probably right to remove those scores.
We'll follow this case and we'll inform you if other devices get their scores banned or when some of those will be allowed back in the scoreboards.