The Notifications center is arguably the best part of iOS 5, coming to answer the prayers of millions of users around the world. However it appears that Apple have not exactly been the first to come up with the idea and we are not talking the Android implementation here.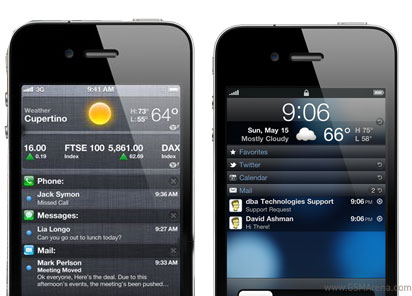 No, there was an iOS implementation long before yesterday, thanks to a David Ashman, a Cydia app developer, and his LockInfo application. Here's what that app does for free for those willing to jailbreak – "LockInfo gives you access to your information where you need it, when you need it. You can view your new emails, upcoming calendar events, unread SMSs, missed calls and much more on your lockscreen, SpringBoard or even within any application on your iPhone, iPod Touch or iPad."
Sounds familiar, right? And if you look at the images above you will see that it looks familiar too. So is Apple just taking an unorthodox approach to fighting jailbreaking? Or have the company's engineers just taken the easy way and decided to steal an already working solution? Either way it's not a particularly nice move and we suspect it won't win Apple many fans.
You see, copying a competitor is not really a big deal – all big companies "borrow" ideas from each other. However what makes Apple such a special company is their unique approach to things – the fact that they always come up with ways to improve designs and user interfaces and make them more intuitive. Yet this time they have obviously decided they can save themselves some effort. And just slacking off really doesn't seem like the best way to stay on top of the game.
You can check out the LockInfo developer's thoughts on the matter by following this link.
Anyway we'll just call that a one-off incident and hope that everything will be back to normal in the fall when the next ultra-impressive iPhone comes out. Okay, Apple?