Google unveiled a smart HDMI stick for TVs – unlike most sticks we've seen so far, Chromecast runs a simplified version of Chrome OS rather than Android. It integrates with Google services like YouTube, Google Play Music, Google Play Video and the Chrome app (on a phone, tablet or laptop). Long story short, it's the Nexus Q done right.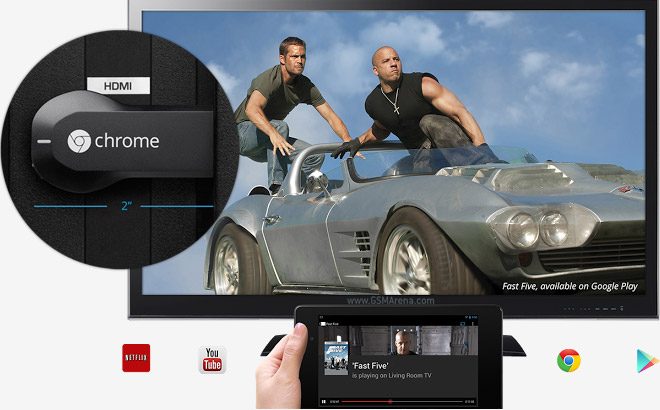 How does Chromecast work? Say you're viewing a YouTube video on your phone (Android or iOS) and hit the Chromecast button. The device will switch on your TV if it's off, change the input so that the TV displays that feed and start playing.
Multiple devices (you, your friends and family) can add videos to the playback queue, searching for new YouTube videos doesn't disturb the playback on the TV. It's not just YouTube, the Google Play Movies and the updated Netflix app supports it too.
You can control playback from the phone – change volume with the volume rocker and skip videos straight from the lockscreen. There's more – if you have to go out, you can hit the Chromecast button again and playback jumps back to your phone. Or you can move it to a tablet instead, it will continue from where it left off.
Chromecast also handles DJ duties – you can play music from the Google Play Music store and Pandora too (all of this is compatible with iOS devices as well).
Another thing the little stick can show on your TV is Chrome tabs – you can "project" a Chrome tab to the TV and browse photos on Google+ or even watch a video on Vimeo (this feature is still in beta). New features can be added by third party devs through the Google Cast SDK for Android, iOS and Chrome (browsers for Windows, Mac OS and Chrome OS).
Here's a little demo video of how Chromecast works:
Chromecast is a 2″ stick that plugs into a free HDMI port on your TV and requires external power through a microUSB port. But best of all it costs only $35 (the Nexus Q was ridiculously priced, it would have never worked). It will be available later today in the US – you can snag it from the Play Store, Amazon.com and BestBuy.com. Best Buy stores will carry it from July 28. If you buy a Chromecast, Netflix will give you a free 3 month subscription. Availability in other countries coming soon.