There is no doubt the new iPhone 6 and especially the iPhone 6 Plus are aimed squarely at the flagship Android devices. Tim Cook himself admitted in a recent interview that it is an opportunity for them to switch people from Android to iOS, and they are doing everything they can to win back those people who they lost to Android because they didn't have a big screen phone.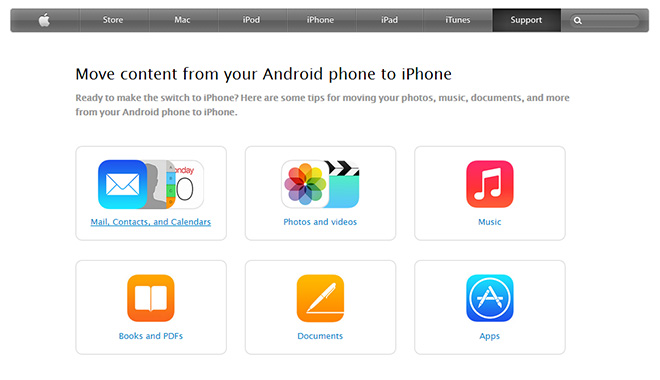 Well, other than just having a big screen phone, Apple is also helping out people who might be on the fence to switching over. One thing they did is put up a support page on their website that details how you can go about migrating your content from your Android phone to an iPhone.
The page talks about various things, from emails, contacts, calendar entries, photos, videos, music, books, documents, and apps, and how you can move them from your current Android phone to an iPhone using various methods. So far, we have only seen Android OEMs do this to help you migrate your data from an iPhone to their device and for the first time, the tables have turned.
The support page is oddly buried deep in the website instead of being highlighted on the iPhone page. If you couldn't find it before, you can access it from the link below.