Today during its big event, Apple didn't only introduce new hardware. There was another big thing announced, and that is Apple Pay.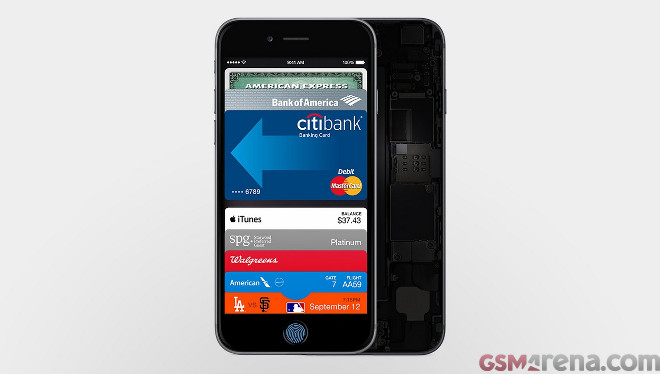 This is the company's own interpretation of a mobile-based payments system. It works with the NFC capability built into the new iPhone 6 and iPhone 6 Plus, alongside the Touch ID fingerprint sensor. It will even support the Apple Watch when that will be out.
When you go to a store, you just pop out your brand new iPhone 6 or iPhone 6 Plus, bring it close to a payment terminal, put your finger on the Touch ID scanner embedded in the phone's Home button, wait about one second… and that's it. Apple says this is more secure than using a credit card, because, for example, the cashier doesn't see your name or your card. Apple Pay will also work for online payments – enabling one-tap purchases on your iPhone.
All of this ease of use is made possible by a few things. First off, the NFC chip that's inside the new iPhones (which unfortunately means Apple Pay will not work with older devices). The new devices also sport something called "secure element", which is where all of your payment data is actually stored. Apple says it will never get access to your purchase history – that will be between you and your bank.
In order to use Apple Pay, you need to have at least one card added into Passbook. If you have a credit card associated with iTunes already, this will be automatically added. And you can add another card by simply taking a picture of it with your iPhone. Its details will be read through some smart optical character recognition, we assume. Then Apple will verify card ownership with your bank and add it to Passbook.
Because you only need to add billing and shipping information once, payments made in mobile apps on the iPhone will really be a one-tap affair – no more filling in complicated forms. If you have more than one card in Passbook, you just choose the one you want to use and that's it. Furthermore, because of how the system works, card details are kept private and won't be shared with the online merchant.
Apple Pay will be available in the US next month. Apple says "work is underway" to take it worldwide in the future. The company has so far partnered with the Top 6 US banks, and a few others too. The banks that will allow you to use their cards with Apple Pay from day one are apparently responsible for more than 80% of card-based transactions in the US. As for the cards themselves – Visa, MasterCard, and American Express are all a go straight from the beginning.