This is it – Apple's flagship device for 2013 – the iPhone 5s. The new phone comes to sweep iFans off their feet with a new Touch ID home button, a 15% larger camera sensor, the spanking new Gold color option and a 64-bit Apple A7 processor.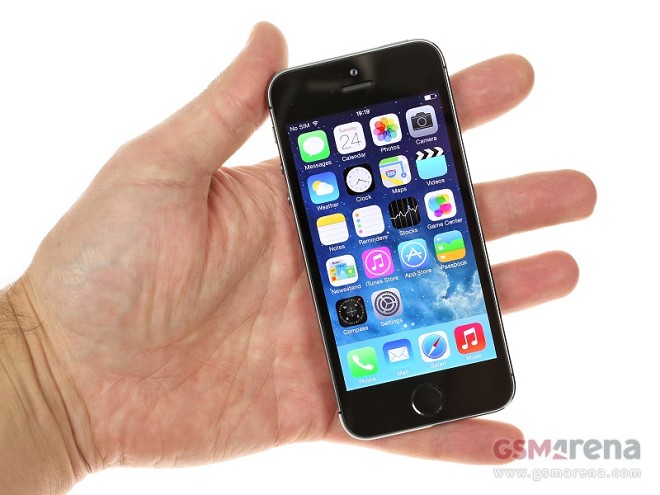 At first glance the iPhone 5s looks identical to the iPhone 5 but when you look closer, you start seeing the differences. There's a dual LED flash, the Space Gray version replaces the Black one of old (and looks grayer indeed), while on the front the home button now has a sapphire glass-covered sensor with an aluminum ring around it.
Naturally we've compiled a video hands-on for your viewing pleasure. The iPhone 5s runs on the latest version of iOS, number 7. We'll show you the new Control Center, the updated Notification Center, Safari, the overhauled UI, the lot. Oh, and we also unlock the device with just a fingerprint.
Moving on to the hardware. The Apple iPhone 5s isn't as bold an upgrade as the iPhone 5 was. The steel frame doubling as an antenna is still here and the impressively thin and lightweight body hasn't been changed except in color. The main differences are that now the home button is no longer just a button but features a dedicated 500 dpi CMOS sensor, which detects fingerprints. Then there's the two-toned flash for accurate skin tone representation.





Apple iPhone 5s side by side with the iPhone 5 and iPhone 5c
The iPhone 5s feels superb in the hands, just like its predecessor. What we find a little disappointing is the 4″ screen, which is starting to look really small by 2013 standards and the bezels that are also rather thick in this day and age.
As far as actual performance goes the iPhone 5s absolutely flies through iOS 7 but that's to be expected given that the iPhone 5 was already smooth enough.
We're working hard to bring you our usual in-depth review of the iPhone 5s, so stay tuned.