The Apple iPad Air 2 has arrived at HQ and we're already heavy into the reviewing process. But that takes time and we know you guys would like a sneak peak at Apple's latest and greatest so here goes.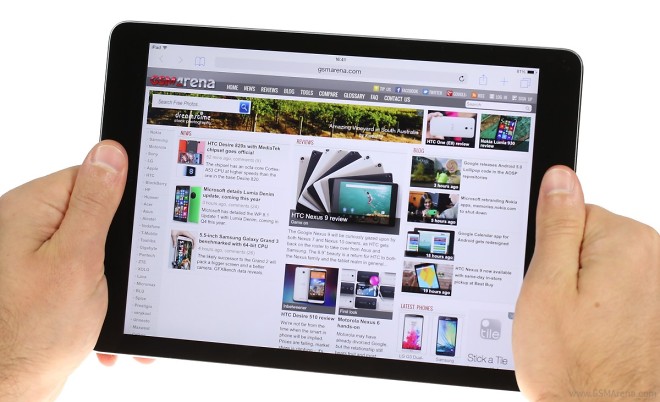 The iPad Air 2 lives up to its family name but also its moniker. It has shed off even more weight compared to its predecessor while still keeping focus on what made it so great.
Last year's iPad Air was the first "Air" in the family and it earned the name with leaps and bounds towards reinventing itself. To us, the users, a 10 or so inch tablet had to be cumbersome and heavy. Holding it for too long was painful. It wasn't a device we would wonder off with too far from the couch area – that was the norm and we didn't question it too much. Apple did and its best answer was the iPad Air. It reduced its height by 1.2mm, its width by 16.2mm, its girth by 1.9mm and finally its weight by a whopping 183g (Wi-Fi only).
This year marks the Apple iPad Air 2 which is a more subdued move in the right direction but a significant one still. The iPad Air 2 is a little thinner (1.4mm), a little lighter, and at its heaviest (Wi-FI + Cellular) it's still lighter than the lightest iPad Air (444g vs 469g), making the previous one look like a fatty with no excuses.
The software is nothing new but thanks to another hardware advancement – Touch ID – it has learned a few new tricks over the last year. You can see that and more in our quick video hands-on of the new iPad Air 2.
The big story here is hardware – it's what Apple focused most on when it unveiled the new iPad Air 2. Aside from being thinner and lighter, the new iPad Air 2 also has a spanking new Gold color option and a Touch ID fingerprint scanner. On the back the camera has seen a 3MP bump in resolution to bring more focus on imaging.
The chipset is Apple's best one yet – an A8X 64-bit chip with M8 motion co-processor that puts a lot of emphasis on gaming. The A8X allows Apple to speed up and improve its camera too, adding features like high-resolution panoramas and slow motion video.
The silent/rotation switch is now gone and in its place Apple has added a second microphone to allow for ambient noise cancellation in Facetime calls.





Apple iPad Air 2 compared to iPad mini 3 and iPad Air
Hardware feels sharper this time around because of the thinner profile. The core design is the same with a flat front and flat back that ever so slightly slopes towards the edges, ending on a chamfered part near the screen bezels.
The display itself has had some work done. Apple calls it a fully laminated display and while it has the same diagonal and resolution it has no air gap between its components, moving the actual screen panel closer to the surface. An anti-reflective coating sits on top promising the least reflective tablet screen there is.
On the surface though the Apple iPad Air 2 is still an iPad and feels nothing short of the best one yet. Users coming from the year old model will notice the new thinner profile but less so the decreased weight. Unlock the slate with Touch ID or the old way and you're greeted with the same-looking iOS (currently at 8.1) that's just as snappy as before. We're hard pressed to say iOS has gotten snappier on the latest Air but that says more about the great software optimization than it does about the new tablet.
The first impression is good and now it only has to dominate the tablet world and fulfill its destiny. It can lean on its hardware merits or use its excellent software package but will face tough competition, regardless. Tablets these days are at their best and they're only going to get better still. Good times to be a tech nerd!