After months of speculation. AMD has finally cleared the smoke around its next line of chips, based on the new Carrizo-L CPU cores. This gives us a clearer picture of what the 2015 low-power computing scene might looks like with the new microarchitecture, dubbed Puma+.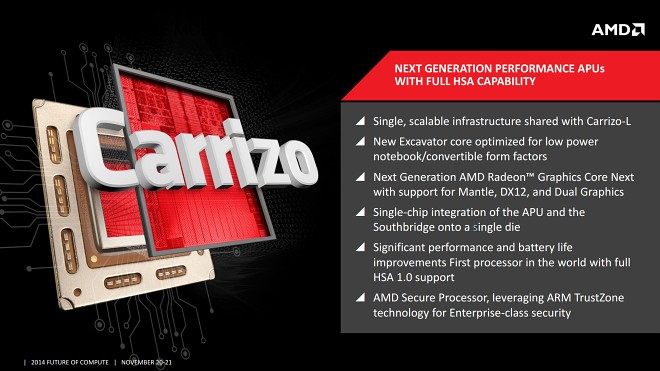 This new family of chips is the new AMD мид-tier, intended to replace the 2014 Beema chips with Puma cores. The new SoCs use a 28nm production process and share the same socket as the high-end Carrizo chips. Just like their predecessor, Carrizo-L chips cover the power range from 10W, all the way up to 25W, so we can expect to see them in various tech and form-factors. Naturally, Carrizo-L is an AND APU, which means, it is equipped with some dedicated graphics processing power as well. It comes courtesy of GCN Graphic Compute Units.
As far as we currently know, AMD is planning to offer a few Carrizo-L products. There is the high-end A8-7410, which is a quad-core APU with DDR3L-1866 memory support and a clock speed between 2.0GHz and 2.5GHz. There is also the A6-7310, with a max clock speed of 2.4GHz and a tad slower RAM – DDR3-1600.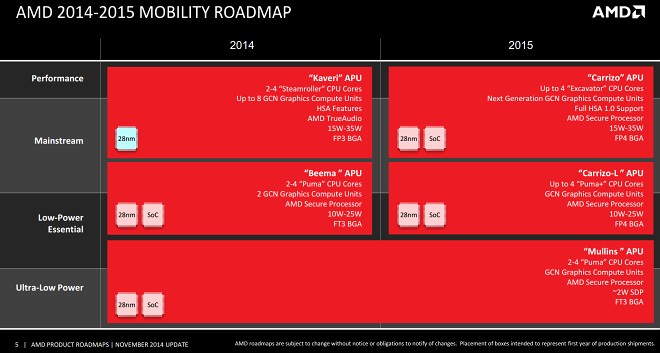 Going further down the list, we find the A4-7240, clocked at 2.2GHz and the E2-7110, at 1.8Ghz. Both are also quad-core processors. There is also the low-powered E1-7010, which only has two Puma+ cores, but is only rated at 10W.
This will, essentially by AMD's last generation of SoCs, based on the Bobcat CPU architecture, soon to be replaced by AMD Zen. It is already clear that the aforementioned Carrizo-L chips are still a lot more power-hungry than their Intel Atom counterparts, but it is still anybody's guess how they will stack up in terms of performance.