The Acer Iconia Tab A700 may have gotten most of the attention at CES, but the A510 was also there. It's a 10.1″ tablet powered by a quad-core NVIDIA Tegra 3 and running Android 4.0 Ice Cream Sandwich – so far, just like the A700. The big difference is that the screen has only 1280×800 resolution (rather than the 1920×1200 resolution of the A700).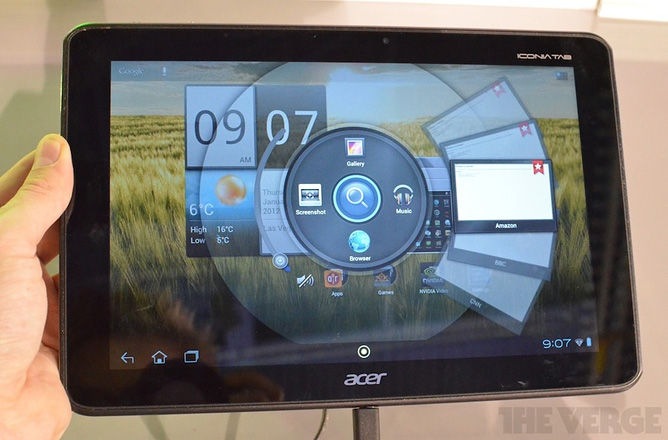 Anyway, the Iconia Tab A510 features a 5MP main camera and 2MP video-call camera. It has lost the full-size USB port that the A500 had but keeps the microHDMI port.
The tablet runs a mostly unmodified Android Ice Cream Sandwich – Acer only included a shortcut at the bottom center of the screen that launches a popup (seen above) with quick access to your bookmarks, a volume slider and a handful of shortcuts.
There's no pricing or launch info yet, but we hope Acer will announce those details soon (some more info on the specs would be nice, too).