A result for the Basemark ES 2.0 Taiji reveals new processor and graphic core for the upcoming Galaxy Note 10.1. This is another confirmation of Samsung's last minute change of heart and the switch to a quad-core chipset for the Note tablet.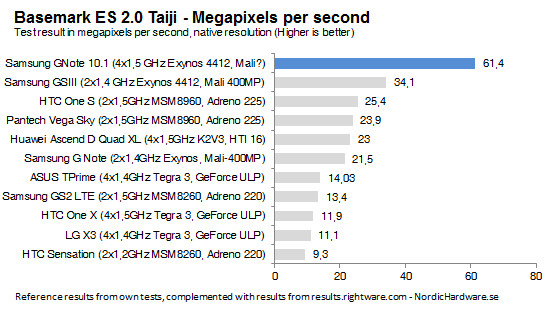 According to the leak, the model number is the same as the previous dual-core Note 10.1, but the chipset is different – Exynos 4412 with a quad-core 1.5GHz ARM Cortex-A9 processor.
So Samsung seems to have added two additional CPU cores, but what about the GPU. Well, instead of Mali-400MP, now it is marked as an unknown ARM Mali. So, what could it be?
The logical answer is the next generation ARM GPU – the Mali T-604, which is supposed to be 5 times faster than Mali-400 and scalable up to 4 cores. The new GPU will explain the much higher benchmark results in the test – 61 fps. And probably, this is not the real number, since the frame rate is limited by the Note 10.1 VSync.
This should make the Note 10.1 one of the most power tablets out there when it comes out later this year and a true contestant for the Android throne threat. We are yet to see when it will actually make it to shelves as the previously announced June launch is probably not happening.