Complementing the two 5-inch tablets it announced back in June, Panasonic has today unveiled the Toughpad FZ-B2. This is a 7-inch extremely rugged tablet that is "designed for business".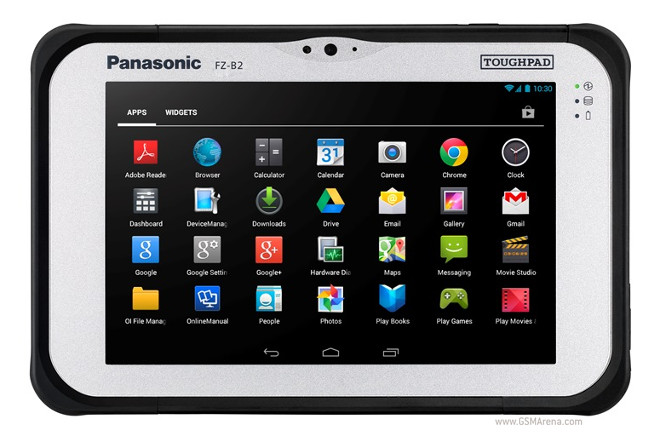 It will become available in Europe in December. In the UK, it will be priced at £591 + VAT, which means £709 inclusive of VAT. It should land in the US in February 2015 for $1,299.
The Toughpad FZ-B2 runs Android 4.4 KitKat and sports a 7-inch 1,280×800 touchscreen with an anti-reflection layer, a 5 MP rear camera, and a 2 MP front snapper. It's powered by an Intel Celeron N2930 processor, which is not something we see often in the Android world. The CPU is a quad-core part, normally clocked at 1.83 GHz, but it can go up to 2.16 GHz using Intel's Turbo Boost tech. Aiding it we find 2GB of RAM, as well as 32GB of storage.
The battery's capacity isn't mentioned, but Panasonic claims it will last for 7 hours on a charge (which takes two and a half hours). What's interesting here is that the battery is replaceable – which is rarely an option in tablets.
The ToughPad FZ-B2 also has Wi-Fi 802.11ac, Bluetooth 4.0, a full size USB 3.0 slot, microSD, and a microSIM slot. The tablet has been drop-tested to 150cm, and it adheres to the IP65 standard for resistance to dust and water. Furthermore, it's built to work in environments with temperatures ranging from -10 to +50 degrees Celsius.
As you'd expect given the ruggedness, the Panasonic Toughpad FZ-B2 isn't exactly thin, having an 18mm profile. It weighs 540g, which is quite a lot for a 7-inch tablet. However, its intended customers are more likely to care about how tough it is.