The Viber application that won the hearts of over 12 million iOS users has now landed on the Android Market, doing just about everyone involved a favor. Android users now have another way to make free calls and send free messages (data charges not counting), iOS users can do that with a lot larger portion of their contact list and Viber gets more users. And now that we had a day or so to play with the app we bring you our take on it.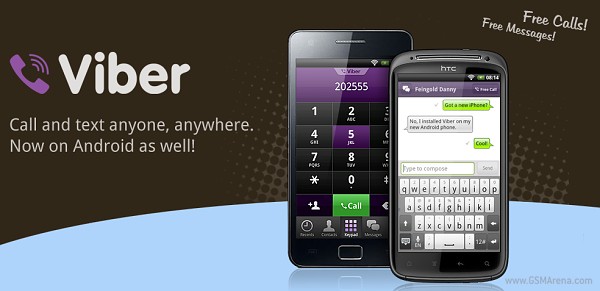 To get started with Viber you need to go to the Android Market from either you phone or your desktop browser and install the free app. You then go through a quick activation process, where you enter your phone number (the only ID you would need) and then wait for an SMS to arrive, containing your activation code.
Unfortunately, the activation process can be bumpy as some users report not getting the return SMS. The alternative solutions, described by the dev team don't work either on those rare occasions so the few unlucky guys, including Vince from our team, will be left out of the Viber fun for now.
Update: We got contacted by the dev team about this issue and they say the problem actually lies with some carriers. Their suggestion if that happens to you is to try and register 24 hours later, when everything should be fine.
Anyway, once you are done with the activation, you are ready to start calling and being called as long as you are connected to a data-carrying network of some kind (2G, 3G and Wi-Fi will all do). The app automatically searches your contact list for people, who are already using Viber and lists them so you can easily find them.
Sadly, contact handling is one of the weakest points of Viber. Unlike Skype, Whatsapp and just about any similar app out there it doesn't properly integrate with your phonebook (even though the promo video shows that it should). This means that the only way to start a Viber call from your phonebook is to set it as the default app for call handling (or have no default app set and select it manually each time).
However, if you do select the Viber as the default call handling tool, you would need to press an extra key every time you place a call to a contact without Viber. That's because a warning appears, saying that you are unable to call with the app and should place a regular call instead.
On the positive side, the Viber app automatically syncs with your phonebook and downloads your full contact list and favorites list (and even your call log). So if you are willing to use that as your default Phonebook app you won't need to do any extra clicks. Yet, that means that you will be sacrificing a variety of features of the regular Android phonebook, including quick contacts, swipe-to-call and swipe-to-send-message gestures on Samsung phones, plus integration with other services.
And there's another problem with using the Viber app – it's pretty dire looking (and that's sugar-coating it). The default purple theme, the lack of any photos, the black text on white background and the tiny arrows of all kinds…. it's really not our cup of tea and we doubt anyone would prefer it over a regular phonebook app.
There's also a dialer in the Viber app, but unless you are willing to go through all the trouble we described above, it's best you stick to the default Android one.
What we identify as Viber's biggest problem is that it behaves on Android the same way it behaves on iOS – it's absolutely detached from the OS – and that's just plain stupid on Android. Apps like Skype and Fring make much better use of the open-source platform hooking to system apps such as the default phonebook. And starting later than others, Viber will need to actually be better than competitors to catch up.
The only area where this doesn't apply are the pop-up notifications, which let you reply to a message right from your homescreen.
But despite all our reservations about the Viber looks and contact management, the app is not without a chance. For the most important thing for an app designed to save you money by placing VoIP calls instead of regular ones is that it works seamlessly.
And Viber works really well. It may not match regular GSM calls, but its in-call quality isn't too bad either. And since it works on both Wi-Fi and 3G you can have it running at all times and be constantly available. In our books this is key to saving you and your contacts money on costly calls!
Mentioning constant running, we have to say that this is probably Viber's most potent weapon in its fight for survival. Viber is far kinder on the battery than Skype and it doesn't use as much memory when running in background, which means that it gives longer battery life and better performance. So if you don't like having to charge your phone every 20 or so hours, due to having Skype constantly running in background, Viber might be the better option by far.
You see, Viber is an app designed for mobile use from the ground up, while Skype is a desktop IM client that made it to smartphones. This means that Viber can compensate with performance, where it lacks in versatility and functionality. And it does – it uses less data, doesn't consume as much system resources and it doesn't drain your battery so fast.
It's certainly worth a try, even if chances are that more of your contacts are among the almost 900 million Skype users instead among the 12 million on Viber. Hopefully, the phonebook integration issues will be ironed out shortly and the service will really take off.