Capacitive displays are great but gloves are their kryptonite – and let's face it, in the winter months using gloves is quite common. The thing about capacitive displays is that they react to skin contact and while your fingers are probably wrapped up in warm gloves, your nose isn't.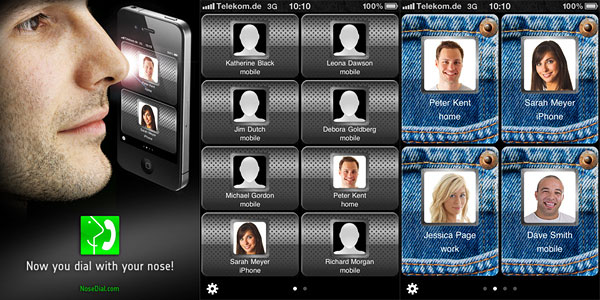 That's right, if you have an iPhone and a nose handy, there's a solution to your gloved-dialing problems…
The app called NoseDial (what else?) features a large, customizable UI, which makes it easy to operate with your decidedly un-dexterous nose. You have the option to scroll through the contact list by just tilting the iPhone and then tap the desired contact with your nose, minimizing the chance you'll get strange looks by passersby.
The app supports "difficulty levels" so you can start off easily or just set it to the most difficult (and functional) mode and use it with your fingers, if you like the skinnable UI with contact photos.
The app costs $0.99 and is compatible with iOS 3.2 and higher.
The Download Squad have a video of NoseDial in action – check it out and carefully consider if you can do that in public.