BlackBerry had promised us a version of its popular BlackBerry Messenger or BBM service for Android and iOS devices quite a while ago now. While we are yet to see the final version release on either platform, someone managed to get their hands on a beta and has a uploaded a video for our viewing pleasure.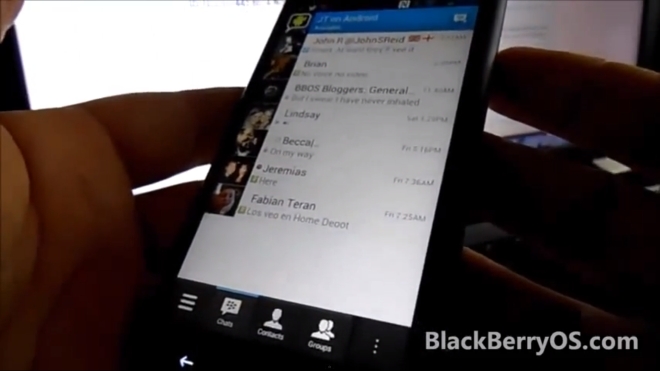 As you can see from the image above, BBM for Android looks nothing like any other Android app. Instead of adopting the look of the platform, BlackBerry has decided to instead port over the look of BB10, which is why the BBM for Android looks exactly the way it does on BB10, complete with the tabs on the bottom and screens on the side.
You can see all your chats in the main window. Swiping right brings a screen with options such as chats, contacts, groups, updates and invites. On the right is the screen with the settings and options to start a multiperson chat or send broadcast message among other things.
The app has integration with NFC so you can tap your phones together and send contacts over to another Android device with BBM. The app itself looks pretty good and even in the beta seems to be working quite well.
We still don't have a precise idea as to when the app would hit the two platforms and the more BlackBerry delays the launch the less the people will be interested in it when it actually arrives. As it is, there are not a lot of people who are holding their breath for this.