The V-Moda Crossfade M-100 over-ear headphones are the company's flagship offering at the moment. V-Moda has taken a unique approach with their development – over two hundred audiophiles, world-class DJs, and Grammy-winning musicians have collaborated on the M-100's tuning and features.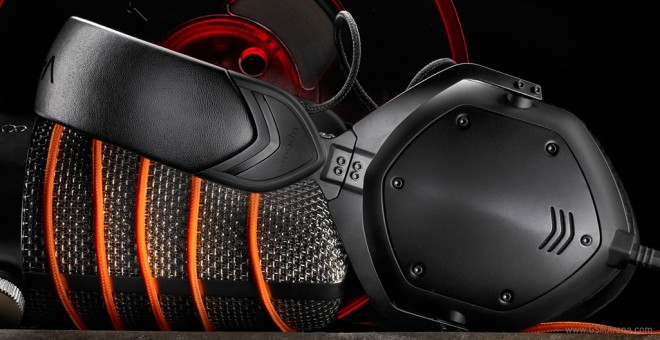 Despite being around for less than ten years, V-Moda has firmly established itself as a premier designer and manufacturer of high-end headphones. A few months back, I came out impressed after spending quality time with the V-Moda Crossfade M-80 model. Read on to find out what it's like having the bigger brother as a daily driver!
Retail package
Unsurprisingly, the V-Moda Crossfade M-100 comes in a great-looking, well-appointed retail box. Inside it, you will find the headset, a carry case with a carabiner for attaching it to a bag, a cable with a single-button remote and mic, another cable which allows sharing the sound with another headset, 1/4" pro adapter, two seals for protecting the inputs, some booklets, and a V-Moda sticker.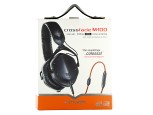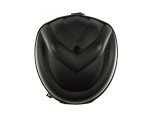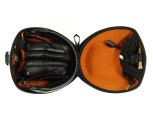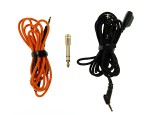 The retail box is well-appointed
There's nothing missing in the retail package of the V-Moda Crossfade M-100. Even the most demanding user won't find anything to frown at.
Design and build quality
The V-Moda Crossfade M-100 headphones sport the brand's signature design. That said, they look absolutely stunning in person – from the shield-shaped speakers, through the leather-covered headband, all the way to the orange metal accent on the 3.5mm jack connector.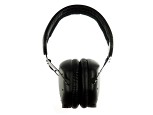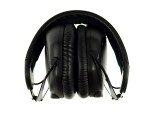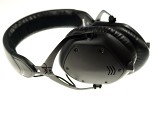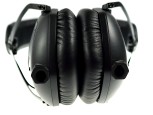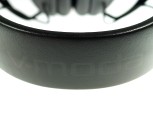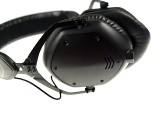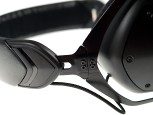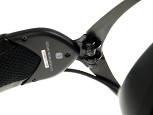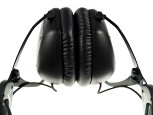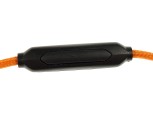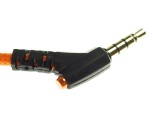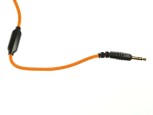 The headset is a real looker in person
The M-100 headphones are available in three color schemes – white silver, matte black, and shadow. The last one stands for black with some glossy accents. You can further customize the headphones by ordering speaker shield covers in different colors, as well as add your own graphic design to them.
Build quality is exceptional. The V-Moda Crossfade M-100 headset has been tested beyond MIL-STD-810G test standards for durability. It features a steel frame and STEELFLEX headband. The cable and plug bend are Kevlar reinforced. V-Moda claims that they can be bent over million times.
V-Moda stands firmly behind the quality of its headphones. The M-100 comes with a two-year warranty. Once the warranty expires, users can pick up a replacement pair for 50% off retail.
Ergonomics
The V-Moda Crossfade M-100 headphones weigh 280 grams – a reasonable number for an over-ear headset. I found the headphones comfortable even after prolonged use.
The cable is expectedly tangle-free. You can plug it on either side of the headphones.
Storing the headset is easy. When folded, its footprint is incredibly small. The carrying case itself looks and feels great too – it's a nice addition to the overall package.
Sound
The V-Moda Crossfade M-100 headphones are equipped with a 50mm dual-diaphragm driver whose patent is pending. Frequency response ranges between 5 and 30Hz, while sensitivity and impedance come in at 103dB and 32Ohms respectively.
In real life terms, the sonic experience offered by the V-Moda Crossfade M-100 is mind-blowing. It isn't the powerful output I'm talking about – at the headset's price range it is pretty much guaranteed.
Because of the M-100's exceptional sound capability, you simply experience more from any given music track. The feeling is particularly overwhelming when you switch from less capable pair of headphones. Playing the same track on a V-Moda Crossfade M-100 reveals tones which were previously non-existent. This feeling is most notable across the midrange – a well-known Achilles heel for quite a few high-end headsets out there.
Bass is unsurprisingly superb, as are the highs. The overall sonic experience is also easily modified by playing around with the EQ settings of your audio player.
Final word
The V-Moda Crossfade M-100 headphones are good looking, superbly crafted, and extremely capable. In comparison to their most likely, similarly priced rival, Beats Audio's refreshed Studio headset, M-100 looks and feels noticeably more upmarket.
The V-Moda Crossfade M-100 is priced at a far from cheap $310. Potential users with such budget leave zero room for compromise, as shelling out this much money doesn't exactly qualify as an impulsive buy. The M-100 delivers everything a headset with such price tag should with ease. It does therefore, deserve a sport on the short list of everyone with such a budget.
You can pick up a pair of V-Moda Crossfade M-100 headphones from the company's own online store over here. The headphones are also available on Amazon, priced at a smidge less than $300 at the moment.