Steve Jobs had his share of fun praising the retina display and calling it way superior to OLED at the WWDC the other day but now Samsung are striking back. A spokesperson of the Korean company is quoted by the Korea Herald saying that the IPS LCD display of the iPhone doesn't offer contrast levels or viewing angles anywhere near the Super AMOLED standard.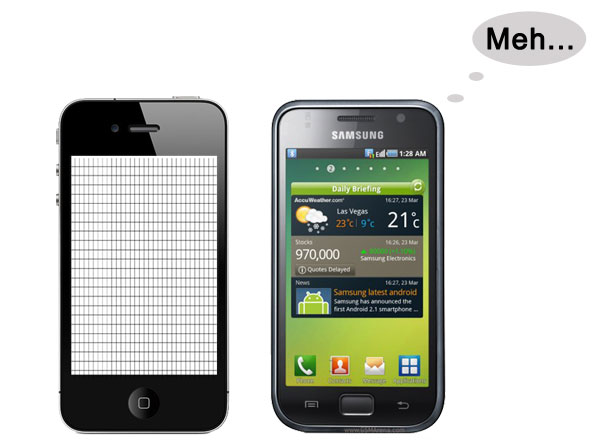 According to the Korean company the sharpness of the high-res iPhone display will be 3 to 5 percent better than what the current crop of Super AMOLED units offer but that comes at the price of 30 percent higher battery consumption. The Samsung-made screens also possess an advantage in thickness, because they do not need a backlight, but emit light themselves.
Those are some pretty strong arguments in favor of the Super AMOLED technology, leaving the slightly higher resolution as the only trump in the iPhone 4 display hand. And given that even if you have perfect eyesight you will hardly be able to tell the difference when looking at the phones from 15 inches or more (whereas the contrast difference remains visible) Steve Jobs might need to concede this victory to Samsung.