HTC has been holding a weekly deal on its official website for the US for a while now. Unlike past offers, though, today's deal isn't going to expire in mere hours. In fact, it's valid all the way up until January 2. If you purchase any handset from HTC's website before then, you can get a 20% discount.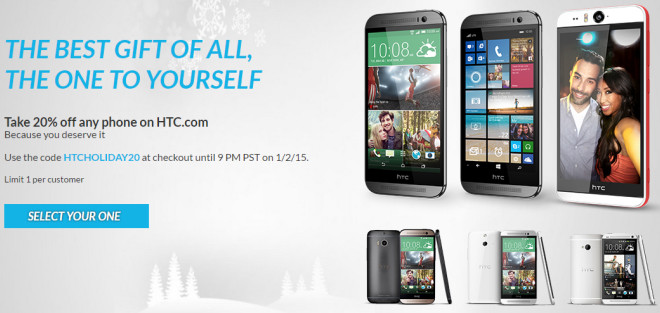 That's a nice holiday deal, and you may want to take advantage of it if you haven't yet bought gifts for those close to you. To benefit from the discount, you'll need to shop at HTC.com and enter "HTCHOLIDAY20″ at checkout as a coupon code. Once you do that, 20% will magically be subtracted from your order.
That's quite simple, but there is one caveat – there's a limit of one smartphone per customer for this offer, so do keep that in mind. If you're wondering what exact devices can be grabbed as part of this deal, worry not for we have you covered. We're talking about the One (M8), One (M8) for Windows, One (E8), One Remix, One (M8) Harman / Kardon edition, Desire Eye, and the Desire 610.
Since you're buying from HTC directly and not from a carrier, you'll be purchasing unlocked units, which means their starting prices are quite steep. The cheapest phone is the Desire 610 which has an asking price of $299, while the One (M8) goes for $649. Those aren't the final prices, as you need to subtract 20% from them if you use the code we told you about. On the plus side, getting handsets this way ensures you don't have to sign long-term contracts with carriers, so there's that.