In an exciting keynote led by Steve Jobs himself, the Apple iPad 2 was announced at the special event in San Francisco minutes ago. Noticeably thinner than the first iPad, it packs some serious power under the hood. Here's all there is to know about the iPad 2 in a heartbeat.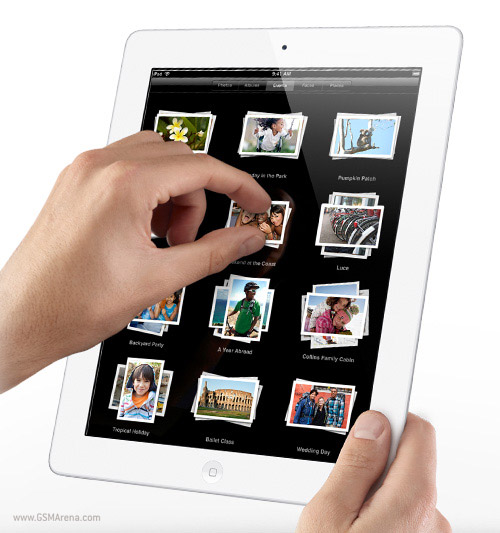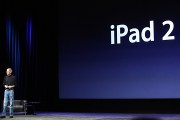 Photos courtesy of CNET.
So without further ado, here are the main features of the Apple iPad 2.
Key features
Same 9.7" capacitive touchscreen display with a resolution of 1024 x 768 pixels
Wi-Fi 802.11 b/g/n connectivity
Really slim 8.8mm thick body
Two versions – GSM and CDMA available
1GHz Apple A5 low-power dual-core processor
Up to 9X faster graphics chip
Latest iOS 4.3
Two cameras – front and rear, capable of FaceTime calls
Back camera shoots 720p video camera@30fps
16/32/64 GB options of onboard storage
Noticeably lighter, weighing just 590 grams
Bluetooth 2.1 + EDR connectivity
Same 10 hours battery life and 1 month of stand-by
3-axis gyroscope, accelerometer and compass sensors
Compatible with every iPhone app without any modifications
Costs $499, the same as it's predecessor
Available on March 11 in Australia, Canada, France, Germany, Japan, UK, and the United States, more countries to follow.
Apple Digital AV Adapter (a.k.a. HD dongle, purchased separately, for $39), supports 1080p output, mirrored view, rotation, and charging.
Video player can playback 720p video @ 30fps

Main disadvantages
No Flash support for the web browser (didn't expect anything else)
No stereo speakers
No standard USB port (you can get USB connectivity with an accessory but you need to pay extra)
No standard display port (though you get AirPlay streaming to Apple TV and there's an optional HDMI adapter)
Only the Wi-Fi+3G version has a GPS receiver
iTunes required for uploading content
No kickstand – it cannot stand on a table without support
No exchangeable battery
micro-SIM, instead of regular SIM for the 3G models (nothing new here, though)
No memory card slot (AGAIN?!)
Still no tethering / personal hotspot support
And here's the iPad 2 in all it's glory.