At yesterday's Google event, the company announced a slew of new features for their Google+ social networking service, along with the Hangouts messaging service.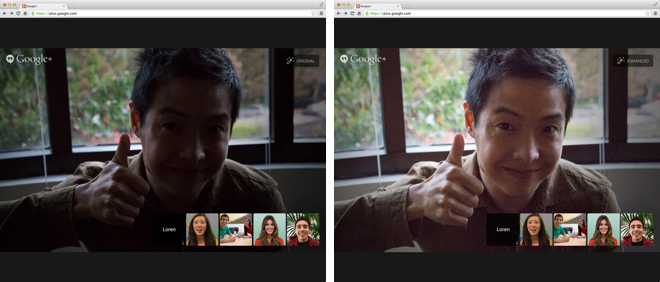 Google+ already had a pretty impressive photo sharing experience that is way ahead of what other services such as Facebook offer but now Google has made it even better. In the new update, the service automatically scans your photos and sorts them by categories such as sunsets, snow, etc. by identifying over a thousand objects within the images to make searching for your photos easier.
The Auto Enhance feature automatically adjusts parameters to improve your image but you can also turn the level of adjustment up or down or choose not to apply it to an entire album if you've already edited the images before uploading.
The iOS version of the Google+ app will now get background uploading and syncing of photos to Google+ in full size similar to the Android version of the app. Google has also updated the Snapseed mobile app to add the HDR Scape filter.
There is also a new Auto Awesome feature. It has three techniques: Action, where it takes a bunch of burst shots from your library, combines them and creates a strobe-effect photograph. Eraser takes multiple images and scans for unwanted people in the frame and removes them. Lastly, Movie mode takes your photos and videos and combines them into a short movie with transition effects and soundtrack, which you can share as is or edit it later. Best of all, all these features work automatically without user intervention.
All these features will be available this week.
As for Hangouts, the Android app now supports sharing your location instantly. It also supports SMS, so you can send and receive SMS through the Hangouts app itself, something we had heard was coming (the Messaging app would probably be retired in Android 4.4 now). Lastly, Hangouts also shows in-line animated GIFs.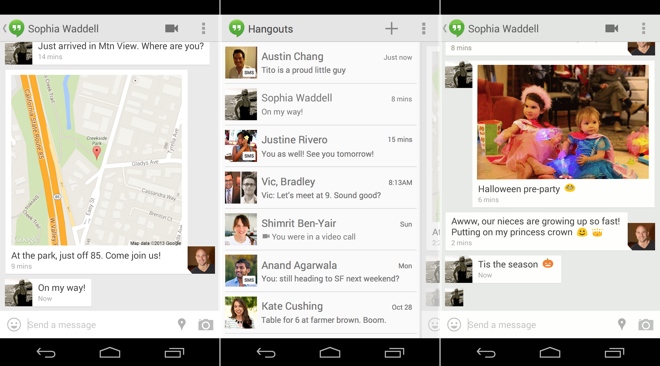 Another addition is the ability to schedule Hangouts on the Air and to promote them with a dedicated watch page. You can also moderate the comments later when you're live.
Lastly, the video calls are now fullscreen on mobile and desktop and it fixes and enhances the webcam lighting automatically.
The new Hangouts app would roll out in a few days and the On the Air improvements over the next few weeks.