The Facebook app for iOS (excluding the iPads) has been updated to version 3.4. It brings along the Map View for the Places section, a Check-in function for events and places and even a un-friend option straight from your device.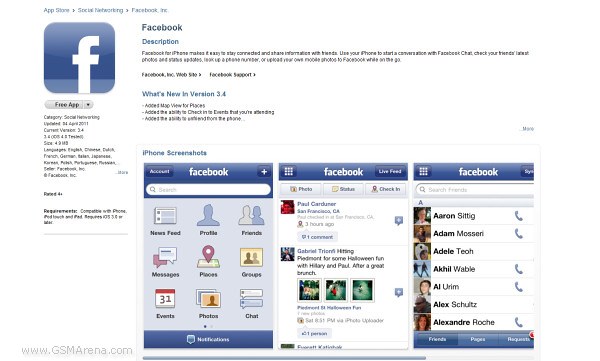 Today it seems a lot of emphasis is being put on check-in functionality on our handhelds. Earlier it was the Google Maps for Android, now this.
Well back to the story at hand. You can now use the Google Maps, straight from your Facebook app on the iPhone and choose a place to check-in – nearby to you. This can, then, be seen by your Facebook buddies.
Also you can check-in to an event, close to you, which you're attending. You have to be invited and responded positively, be near the event and at the right time for the event. Then you'll be able to check-in.
And finally, you'll be able to un-friend people straight from your iPhone or iPod Touch, which is a feature, which unbelievably was missing so far. It brings the Facebook app for iOS to true Desktop usability standards.
As always the Facebook application for iOS is free. You can go get it from iTunes on your PC or Mac or from your iPhone or iPod Touch too. It's about 5MB.
Via iTunes