It's finally here folks! After no less than a few years of speculations the Apple's tablet was finally unveiled. Here comes the Apple iPad to fill the gap between smartphones and laptops. Equipped with a large touchscreen and what seems to be a pretty snappy CPU it runs what seems to be a sized-up version of the iPhone UI.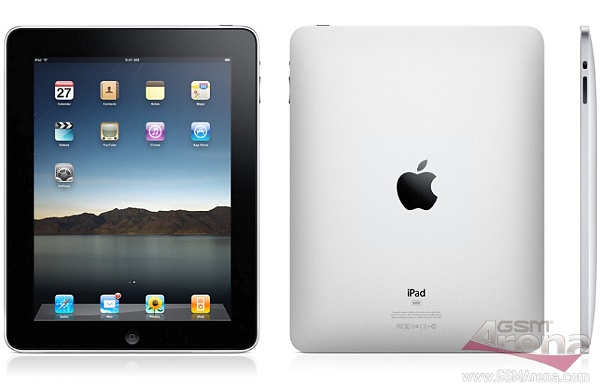 Weighing only 1.5 pounds (680 grams) the Apple iPad comes with a 9.7" capacitive touchscreen display with a resolution of 1024 x 768 pixels and multi-touch support. It is powered by an Apple home-brewed A4 CPU, clocking at 1GHz. The iPad comes with Wi-Fi 802.11n support in addition to the standard 802.11b and 802.11g. Some of its modifications will also have 3G network connectivity.
The Apple iPad will come with 16 to 64 GB of internal storage and will measure only 0.5 inches (12.7 mm) in thickness. Its other noteworthy features include Bluetooth 2.1 connectivity, speaker, microphone, accelerometer and compass. The battery inside should be able to last for the stunning 10 hours of usage or 1 month of standby.
One of the sweetest things revealed about the Apple iPad so far is its full compatibility with the iPhone apps. No modifications need to be made for any Appstore app to work on it as the iPad will automatically upscale them to its native resolution. Apple have also released a new iPhone SDK that let's developers tweak the apps for the iPad.
One of the new apps, designed specially for the Apple iPad is iBooks – an eBook reader. Did I just hear the Kindle shake with fear? Oh yeah, and there will be an iBookstore. Come on, you didn't expect Apple to allow you to purchase those somewhere else, did you?
Unfortunately the Apple iPad doesn't have flash support. You would think that with browsing being among its key features they would have covered this. Another disadvantage of the new Apple gadget is its lack of standard USB port – it uses the iPhone jack instead. There will be an accessory that would enable USB connectivity but you will have to pay extra for that.
There will also be some other nice accessories for the Apple iPad that you can purchase separately. The keyboard dock, for example let's you turn your iPad in a nettop in a matter of seconds.
AT&T will be offering special data plans for the iPad. For 15 US dollars a month users will be getting 250 MB worth of network data, while unlimited network data comes for 30 US dollars a month. Both plans will include free use of AT&T Wi-Fi hotspots and won't need any contract so they can be cancelled at any time. International contracts should be available after June.
Now for the pricing. The Wi-Fi only version of the Apple iPad will cost 500 US dollars (350 euro) with 16GB storage, 600 US dollars (425 euro) with 32 GB memory and 700 US dollars (500 euro) for the 64 GB version. For 3G connectivity add another 130 US dollars (90 euro) to each of those.
The Wi-Fi-only models will start shipping within 60 days and the full range will be available within 3 months. There Wi-Fi-version will be available worldwide but it's yet unclear if the 3G-enabled iPad will be equally accessible.
Here is a short video demonstrating the first live appearance of the Apple iPad in public.