The king is dead. Long live the king! This is the exact words to describe the latest AMD creation – the dual-headed beast Radeon HD6990.

The HD6990 is the new "world's fastest" card. It's basically two HD6970 soldered into a single board. Unfortunately the price is also two times higher – $700.
The Raredon HD6990 doubles the computing power of the HD6970 – 2×1536 stream processors, 2×96 texture units, 2×32 ROPs, 830MHz core clock, 2×256-bit memory bus, 2x2GB GDDR5, 2×2.64 billion transistors but keeps the same 40nm manufacturing process. The memory clock had to be slightly reduced to 1.25GHz (5GHz data rate) to meet the TDP requirements.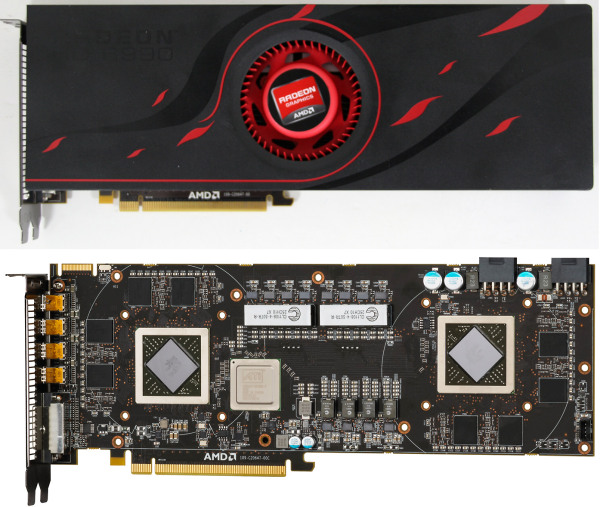 If you are a gamer you already know the next Crysis is only a few days away so March seems to be the perfect moment to launch the next GPU king. As it turned out AMD thought the exact same thing.
If you are an HD5970 owner (like me) and you want this new baby you won't need to upgrade your power supply. In any other case you must be prepared to get an at least 800W PSU, a big case and get used with the noisy fans.
But let's talk about the elephant in the room – great as it may be, is the HD6990 actually worth so much money?
It depends. From what early benchmarks show the HD6990 has lots of oomph and will surely make any enthusiast happy. If you have the money and want this card – then go for it.
If you are an HD5970 owner I think it's better to wait for the HD79xx generation and skip this one. The performance increase (for resolutions up to 1920×1200) is hardly greater than 20%. While it's not exactly a minor upgrade, there is still no game on the market to make the HD5970 unleash its full potential. If you are looking for resolutions higher than that, then the upgrade is definitely worth it.
In case you are an HD6970/HD6950 owner – just buy another one and go CrossFire. The benchmarks show you will get the same or even a bit better performance for less cash.
You can check these sites for some detailed benchmarks – techPowerUp!, AnandTech, HardOCP or just Google it.